2012 Bank of America Chicago Marathon



2012 Boston Marathon


2011 New York Marathon


2011 BMW Berlin, Germany Marathon

 


2010 Roadmasters Annual Charity Run





2008 Miami Marathon                   




2012 New York Marathon...... Cancelled due to aftermath of Hurricane Sandy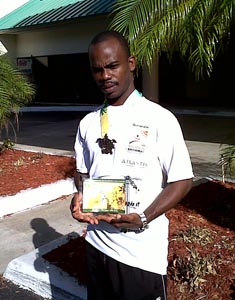 His name is Sidney Collie and he is one of the best marathoners in the country right now. Coming off of a dissapointing Marathon Bahamas this past January, he ran a time of 2hrs:50mins in the A1A Marathon in Ft. Lauderdale, Florida on February 20th which afforded him 4th place over-all and 1st in the 30-34 division. This is the second time in 3 months that Sidney has won his division in a South Florida race compelling his friends to nick name him "king" of the 30-34 age group. His time of 2:50 is 20 minutes faster than his previous best marathon time. Sidney also qualified for the 2012 Boston Marathon and was guaranteed entry into the 2011 New York City Marathon for the second time. His aim is to break the national marathon record of 2hrs:34mins and he is well on track and he is now seeking the assistance of professional coaches locally and in the USA.
Sidney's road to redemption might not have been possible without the assistance of Sunshine Insurance/Marathon Bahamas, Dr. Kathryn DeSouza and friends and Bahamas Roadmasters. Persons wishing to contact him can send an e-mail to sidneyrunnercollie@gmail.com.
---
Addiction. How do you define that? A craving which cannot be measured and reasoned with. A desire to cling and remain in the state of intoxication for as long as possible. Enter the chemical effect of an act and trying to stay immune to everything else around. All of them perhaps is the reason you plan your marathons in advance, sometimes many in a row.

After finishing the Miami Marathon on the last of January this year, a few of us were already waiting for the clock to take us into the next month, the beginning of which registrations would begin for the Chicago Marathon 2010. And within 48 hours we were in. But that still didn't make us feel set in, because that would mean that we had to go for another 8 months without doing a course of 26.2 miles. So we then started to discuss on filling something into the mid-year. The Flying Pig Marathon is well known for a great experience : course, entertainment, lively crowd support and additional goodies at the expo. It also sat right in the middle of the year giving us enough time to recover and train for October 2010. And it was in our list of to-do's which made it easier to decide to register. Besides running the Bahamas Marathon on February 14th, we gave ourselves another gift on this occassion of setting ourselves a short-term goal of training for one of the best marathons in the U.S. on May 2nd 2010. read more...